Requests to use Project Baseline seeds will be evaluated based on a formal research proposal.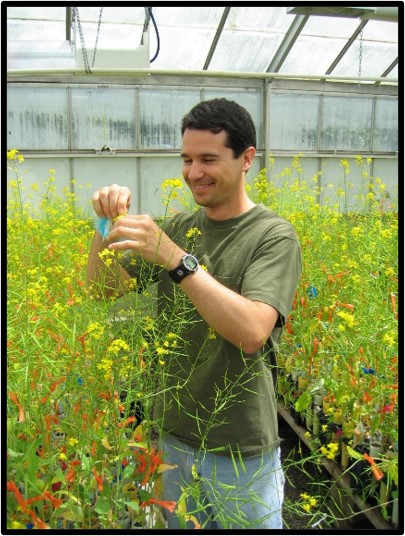 Steve Franks performing a resurrection experiment.
California poppy seeds (Eschscholzia californica)
To maximize research potential, seed distribution for research will occur on a rolling basis, with applications welcome anytime. Additionally, requests for proposals (RFPs) will be announced at approximately five-year intervals and can be responded to directly. A Proposal Evaluation Committee will be convened by the Advisory Board to evaluate proposals as needed.
Steps to apply for seeds
Respond to an RFP or fill out an initial inquiry form to request consideration for a withdrawal of seeds.
Follow the instructions included in the RFP. Include the following information in the proposal for full consideration:

Provide the names of the proposed plant taxa and, if possible, the geographic range of the proposed project.
State the approximate number of maternal lines and/or seeds per population that will be requested.
Describe central questions, hypotheses, and the intellectual merit of the project.
Describe how contemporary seed collections will be included in the experimental design.
Explain how the PI will capitalize upon the unique structural aspects of the collection, such as taxonomic diversity, multiple populations sampled across the species range, samples of conspecific populations within close proximity to one another, sister taxa, and/or maternal line seed collections.
Include a brief discussion of the feasibility of your experimental design, including logistical concerns like access to sites and funding availability.
If you would like to request a letter of support from the Project Baseline Advisory Board to include with a grant proposal, please specify the format, where to send it, and when it is needed.

Once your proposal is submitted, it will be reviewed by the Advisory Board on a rolling basis. If your proposal is accepted, we will contact you about how to receive accessions from the seedbank.
Click here to learn about contributing seeds to the Project Baseline collection in order to keep the resource available for future work.
For further information, please peruse the Project Baseline website. Contact members of the Advisory Board with any specific questions.